Strategy Implementation ... and the Lack of Results
The starting point is poor strategy implementation: What has been decided and agreed is not being delivered!
Here is why strategy implementation usually fails – and 6 design principles that will fix the problem.
This article is stand-alone, but I still recommend you to first read this one on Strategy and the Proper Use of M&A.
This article is available in a full pdf version.
So about strategy … exactly what is it?
An unnecessary question?

Not at all! This is an important part of the problem. Put this question before a typical leadership group and you are likely to receive as many answers as there are participants – if you get answers at all. So the next time somebody emphasizes the triviality of developing a new strategy, try this countermove: "Interesting viewpoint … but before I comment on that, could you please define strategy for me?"

Here is a strategy definition that works:


A strategy is an integrated set of actions designed to establish and maintain a sustainable competitive advantage

Using this definition, the initial action point is to remove the irrelevant content and trivialities of most strategy and business development plans and to start over – with lasting competitiveness as the key ingredient.

However, the root causes behind poor strategy implementation include not only a lack of sharp strategy definition, but also insufficient ability to design strategy processes that deliver value. Basically all modern "ways to compete" are cross-functional, whereas our organizational mechanisms are usually not!
Consequently, the processes of strategy development and strategy implementation need to mix functional skills with cross-organizational structures and boundaries, which, beside the mechanisms of "implementing change", are the key reasons why new strategies are tricky to realize.

The second action point, therefore, is to attack head-on the profound reasons why "change" does not miraculously transform itself into the "integrated set of actions" which will comprise the core of the strategic plan.

Introducing the 6 strategy process design principles for delivering results!
The starting point is poor implementation: What has been decided and agreed is not being delivered!
Why not?

Principle 1: Realize that understanding is the basis for resolve and action
The first significant insight into an improved understanding of what implementation is all about is an appreciation of the three psychological levels we all go through before getting things done:
Understanding before consent
Consent before resolve
Resolve before action

Acknowledgement of these simple but deep observations has profound consequences for process design – e.g., how information is distributed, to whom and at what time – and the extent to which facts are used to establish and communicate the basis for change.

Principle 2: Design for facts prior to opinions
The second principle for improving implementation comes from the field of group dynamics. Most projects assemble participants in task groups. The problem that emerges is low group performance due to fundamental personality differences.

Models of human personalities typically divide us into groups, e.g.:
Producers: impatient; "jump to conclusions"
Integrators: listeners; prefer all opinions to be heard
Bureaucrats: thorough; want all facts on the table before deciding

The consequence of these personality differences in a strategy team is a composite of three to four totally different approaches to problem solving – which does not work in terms of facilitating a productive work environment.

The solution is to introduce a process design of three distinct phases:
First, objective facts
then, interpretation of those facts
finally, solutions based on agreed interpretations

Process quality and productivity strongly benefits from this phase design, but it necessitates discipline: The solutions and action plans are not on the agenda until phase three. The importance of this process design is typically higher the more controversial the issues on the table; e.g., synergies, personnel policies, etc.

Principle 3: Design for participation based on necessary cross-functional skills
Basically, all ways to compete in the present post-industrial society (e.g., speed of innovation, technological leadership, logistics/deliverability, cost leadership, customer service, quality, etc.) require coordinated action plans involving a large number of functional areas of the business. Managers are typically not sufficiently aware of the profound consequences of this fact.

A better perspective on what strategy actually is will drive a deeper understanding of what parts of the business should be involved. For example, have you reflected on what an increased rate of innovation (one of many ways to compete) means for: how new products need to be ramped up in manufacturing? how purchasing should work differently with supplier development? how this priority drives changes in the organizational structure of sales? changes in reporting? in the KPIs? In management objectives? (Not to mention product development, which was consciously left out!)

Consequently, when designing a new innovation strategy, a broad and interlinked set of functions need to participate in the solution design and action plan development.



The 6 design principles for effective strategy implementation: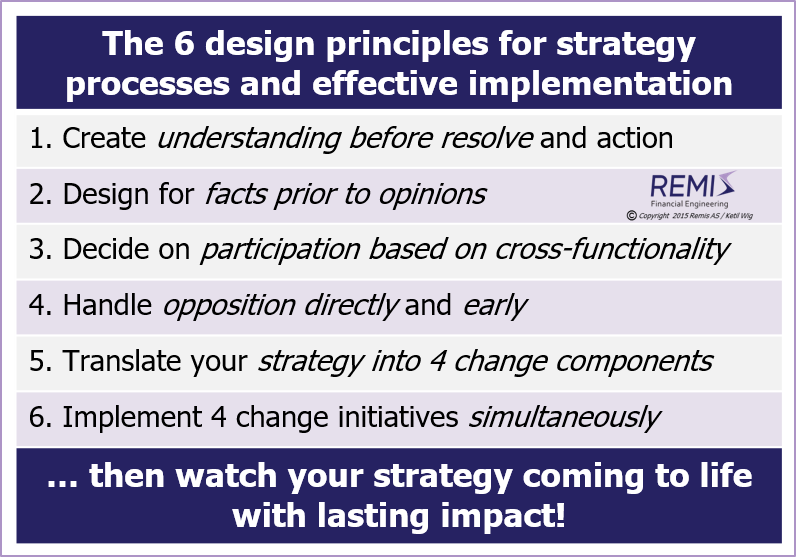 Principle 4: Expect resistance – confront it head-on and early in the process
All task groups should systematically be staffed by both supporters and opponents. Opposition sharpens the quality of arguments and it does so earlier in the process.

Resistance to change is predictable noise. In a typical population of 100 there will be 15-20 skeptics, 3-4 strongly opinionated opponents and (among those) at least one "fanatic". Opposing forces are always present, and it is far better to process these individuals proactively and early on – than to wait and being forced to handle the opposition during the execution phase.

Principle 5: Understand change and its nature! – translate your strategy correctly into action points
Have you ever asked yourself what realizing change really is all about? An uncomfortable question maybe?

Interestingly, change management is a cloud of fuzziness created by management consultants – most of whom cannot offer a precise description of what their approach to "change" contains.

Here is an assertion:

Effective change is achieved by translating strategic priorities into actions within these four areas: organization, resources, systems and culture
The below illustration shows the four tools of implementing strategic change: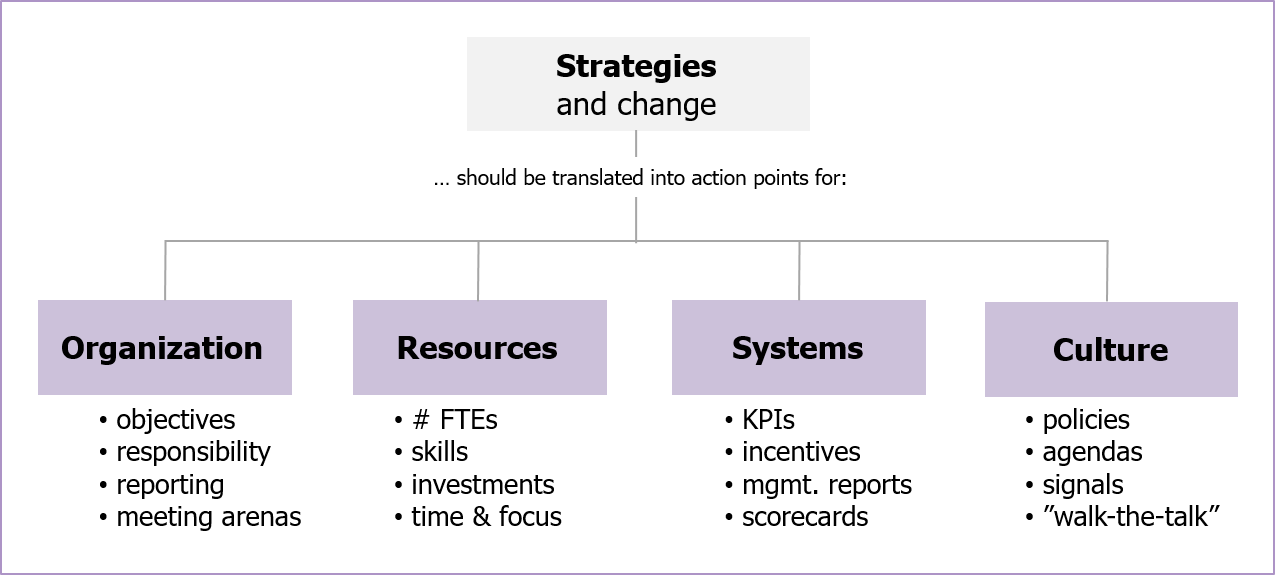 The key elements of these four action areas are:
Changes to organization means changes of responsibility and authority, objectives, reporting lines and meeting arenas. Organizational change should reflect new priorities, not history
Changes to resources means adding new capabilities or removing existing; adding or removing skills, FTEs, investment funds, operational funds or time resources
Changes to systems include modifications to incentives and rewards, KPIs, scorecards, management information and priority tracking/reporting
Changes to culture (or attitudes) are underrated, but critical in any change program: leadership signals, new policies, new meeting agendas, new priorities in KPIs, different theme focus in corporate communication, etc. "Walk-the-talk" is a highly relevant tool for changing attitudes and company culture
Principle 6: Put the 4 change tools in motion simultaneously
The sixth principle reflects the necessity of setting the above mentioned change tools in motion simultaneously. Applying the same tools gradually and sequentially does not work. The reason for this non-obvious conclusion is that all change involves resistance, and these four tools meet these obstructions in a systematic way on multiple levels. You need a critical mass of measures in order to overcome the resistance, and a simultaneous approach gets the job done!

Without a keen awareness that all change is about putting these four tools into coordinated motion, the implementation of a new strategy will, in all likelihood, result in little more than good intentions.


From strategy to "getting it done!"
Many organizations are disrespectful of new strategic initiatives, usually due to prior experiences with a lack of management's ability to implement the decisions of previous initiatives.

There are good reasons to pay attention to these concerns and to approach strategy implementation in a way that works; i.e.:

Strategy should be a plan for improving sustainable competitive advantages. Focus on exactly that!
Organize the process based on the principles understanding-consent-resolve, and split work streams into phases: facts, interpretations of facts, and solutions/actions
Involve necessary cross-functional resources across organizational boundaries and decide participation based on the need for operational coordination when implementing the improved way to compete
Translate the solutions into the correct action items within the four tool sets: organization, resources, systems and attitudes/culture – and act with these four tool sets simultaneously

Then watch your strategy coming to life with lasting impact!




For a full pdf version of this article, see White Paper #3: Strategy and Implementation ... and the Lack of Results.
Other Relevant Articles
Also read the separate article on Developing High Quality Business Models; on M&A strategy, on Strategic Alliances and Joint Ventures, on Buy-Side M&A, on Sell-Side M&A, on Synergies and Poor Judgment, on Financial vs. Industrial Ownership and about M&A Process Management.

See Download Center: White Paper #1: Post-Merger Integrations - About Synergies and Poor Judgment; White Paper #2: Strategy - and the Proper Use of M&A Tools.
A LinkedIn article with a shorter web version of the same white paper is available here; White Paper #5: Buy-Side M&A (mergers and acquisitions); White Paper #6: Sell-Side M&A (divestitures, trade-sales and mergers); or White Paper #7: Should You Choose Financial or Industrial Investors/Owners?.