Mergers and Acquisitions, Divestitures and Trade Sales, Strategic Alliances and Joint Ventures (read more about Buy-side and Sell-side M&A)
Read this article on: Buy-side Mergers and Acquisitions.


Acquisitions or mergers are about implementing strategies through the filling of strategic gaps. This may be achieved through the implementation of a growth strategy, through product and/or geographical diversification, by focusing on core business combined with outsourcing; or through consolidating manufacturing capacity. Available M&A tools to fill such gaps are e.g., acquisitions or trade sales, joint ventures/strategic alliances and mergers.


A transaction does not represent any value, only risk!
It is a tool for strategic change, not an objective.

Understanding the links between basic business strategy and the use of M&A is a critical and highly underestimated domain of knowledge in top management as well as in the M&A industry.



(For more on this key issue, read this main article on business strategy and M&A, or this summarized Linked-In article on Strategy and M&A or this White Paper #2 which is a full version downloadable pdf)

For buy-side transactions, managing acquisition risk is critical. Risk comes in three forms: 1) The nature of the acquired entity; 2) The acquisition model – e.g., a merger vs. step-based ownership increase; and 3) The emphasis on post-merger integration. In addition to acquisition risk, the acquisition process itself is risky as you are "one of many buyers." Therefore, the ability to develop a buyer's advantage is a key factor.

Learn more about buy-side M&A.
In contrast to acquisitions, divestitures (also known as trade sales) are driven by creating and maintaining negotiation strength through high-impact project management and the optimal use of tactics.

Unlike an "uncertain" acquisition process, a divestiture process is "certain" in the sense that its outcome is determined only by the seller's own ability to locate motivated buyers and to negotiate acceptable terms.



The below illustration is from White Paper #2, which discusses optimal use of the various M&A strategies and tools: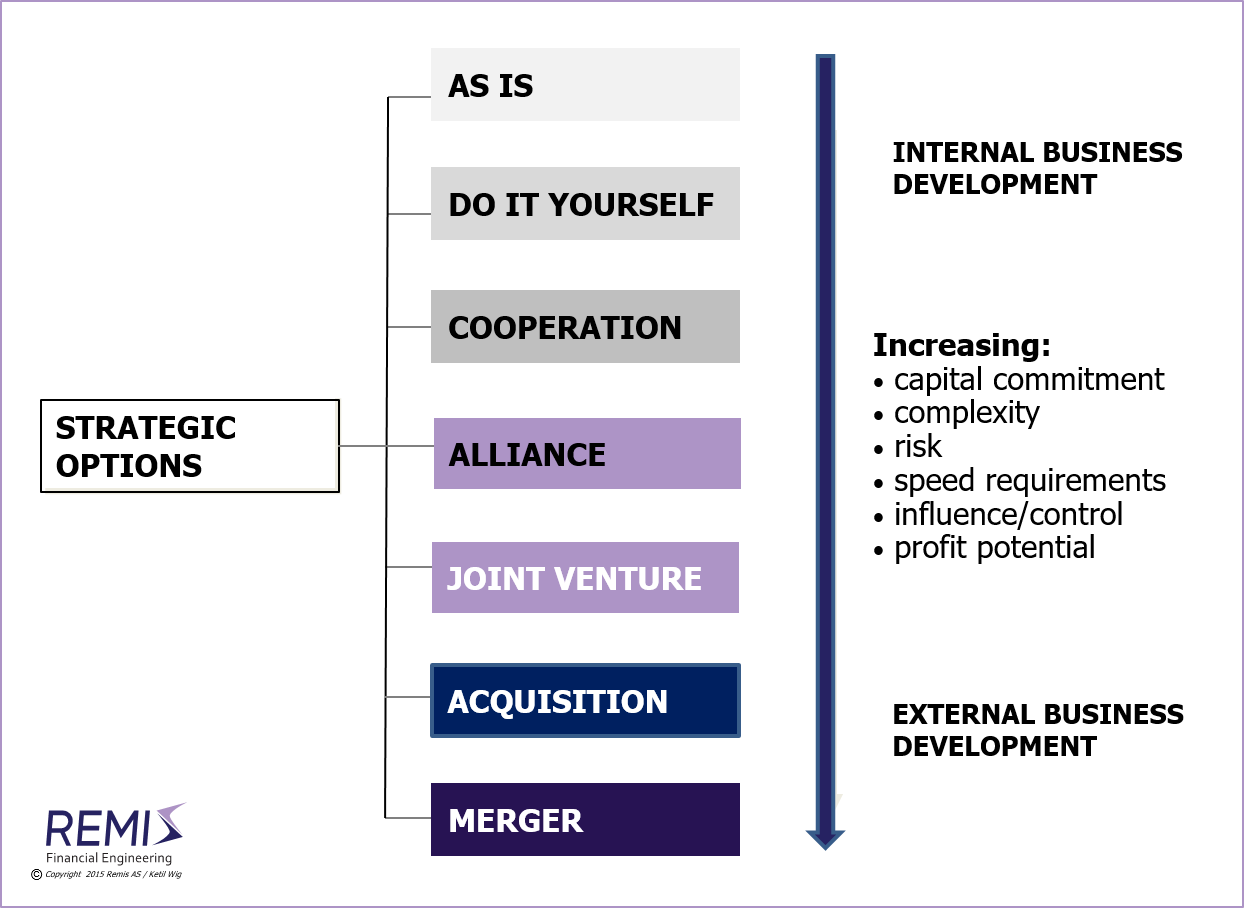 Therefore, the keys to success in a divestiture are to understand buyer motives and synergies; to locate enough potential buyers and their decision makers; and then to negotiate and tactically handle the process in order to secure the optimal terms.

Learn more about sell-side M&A.

Other Relevant Articles
Also read the separate articles on Strategy and M&A, on Strategic Alliances and Joint Ventures, on Buy-Side M&A, on Sell-Side M&A, on Synergies and Poor Judgment, on Financial vs. Industrial Ownership, on Equity Based Financing of Start-ups, and about M&A Process Management especially related to handling non-financial M&A objectives.

See Download Center: White Paper #2: Strategy - and the Proper Use of M&A Tools. A LinkedIn article with a shorter web version of the same white paper is available here; White Paper #5: Buy-Side M&A (mergers and acquisitions); White Paper #6: Sell-Side M&A (divestitures, trade-sales and mergers); or White Paper #7: Should You Choose Financial or Industrial Investors/Owners?; or White Paper #8: Equity Based Financing of Start-ups and High Growth Situations.