Turnarounds and Crisis Management
As a contrast to
restructuring
projects (being dominated by balance sheet redesign including changes in ownership and financing structure), turnarounds focus on operational redesign: cash generation, cost reductions and profit improvement, reorganization, refinancing and strategic redirection. Handling an immediate liquidity crisis in a high-risk situation is a typical starting point.
Turnarounds are also characterized by the necessity of quickly building trust among a larger (than for a typical
restructuring
) set of key constituencies, including employees and labor unions (in addition to owners, creditors and banks/corporate lenders).
Turnarounds Have Two Sets of Agendas
Turnarounds usually have a double agenda: Handling a short-term liquidity crisis and cost reductions without significant impacts on
strategy
and structure, while dealing with a deeper set of priorities. This second agenda can involve irreversible changes to corporate design, product offerings, factory structure and core business units. The deeper agenda is actually a
restructuring
, but one with clear operational characteristics (for example, through the redesign of a sales or manufacturing organization).
A Turnaround Represents Irreversible Change - Requiring Consistency
The below illustration shows a 10-step model for managing a turnaround situation.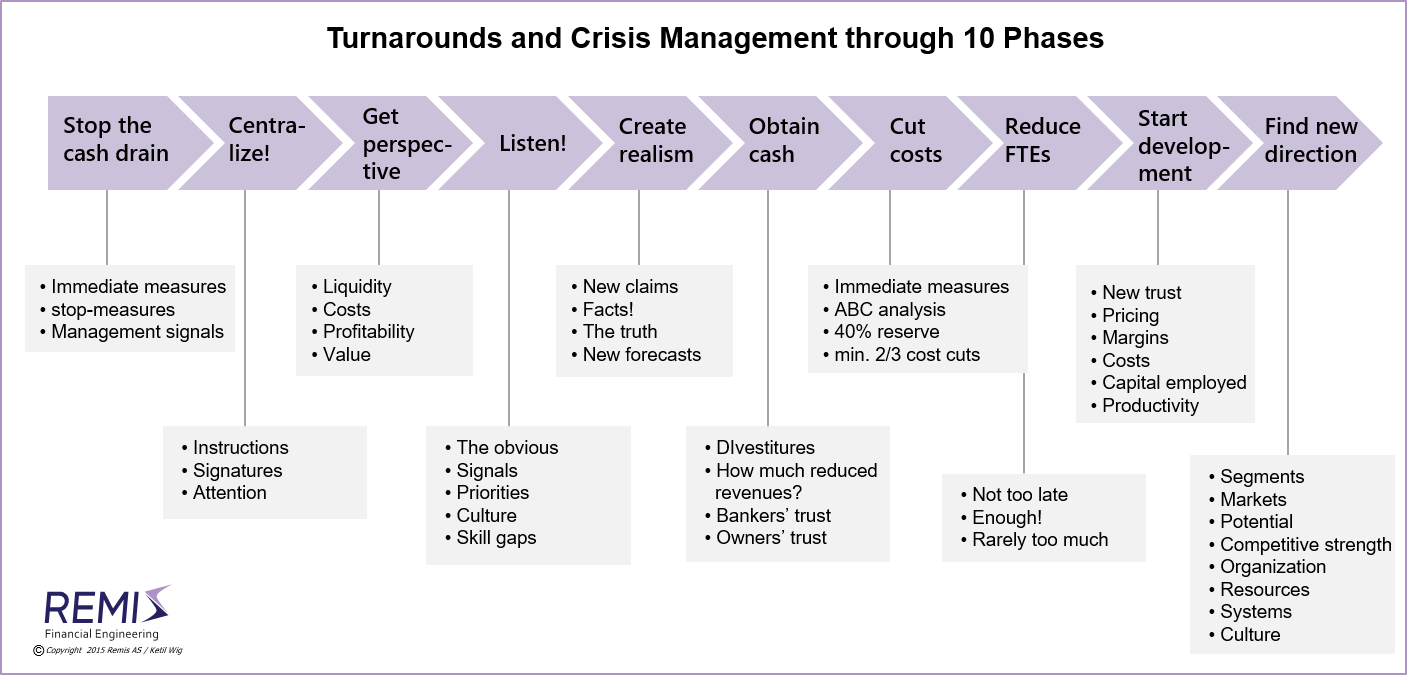 Illustration: Turnarounds and Crisis Management through 10 Phases
As the
restructuring
part of a turnaround normally represents an irreversible change of
strategy
, a critical skill of the turnaround team is the ability to set the business on the "right track" in order to ensure consistency between the short-term focus and the building of long-term corporate value (see
strategy
).
Other Relevant Articles
Facts
Remis AS and Ketil Wig offers advisory and consulting services to foreign owners, handling key priorities related to investments and operational assets in Norway. Typical turnaround assignments are for distressed entities with challenges related to cash position, cost structure or handling organizational restructuring priorities.


10+ turnaround assignments in high-risk/high-impact situations across various industries and sectors. Focus on cash generation, cost reductions, profit improvements, reorganization, refinancing and strategic redirection.


Business unit size of US$50-800M.