Financial and Operational Restructuring
Restructurings are often crisis-oriented projects involving radical changes and redesign to corporate balance sheets, corporate structure, business portfolios, capital structure and financing. This is why project tools such as
valuations
represent a necessary part of a typical restructuring.
Many restructuring projects (with balance sheet redesign) have simultaneous
turnaround
characteristics (including P&L/operational redesign), but not all. For example, some companies may have restructuring requirements concentrated to loan portfolios or corporate structure without significant impact on day-to-day operations.
Restructurings as a Strategic Change Tool
Restructurings are also on the agenda when a company changes its core strategy and consequently wants to spin-off or
divest
a company or business unit. This may require a complex re-allocation of assets – or changes in production strategy, suppliers, financing or capital structure – which include many elements of a full restructuring. A de-merger has the same characteristics.
The below illustration shows how the effects of recessions drive the second order consequences which typically initiate the need for restructurings:
low capacity utilizations
,
low corporate valuations
and
unavailable financing
.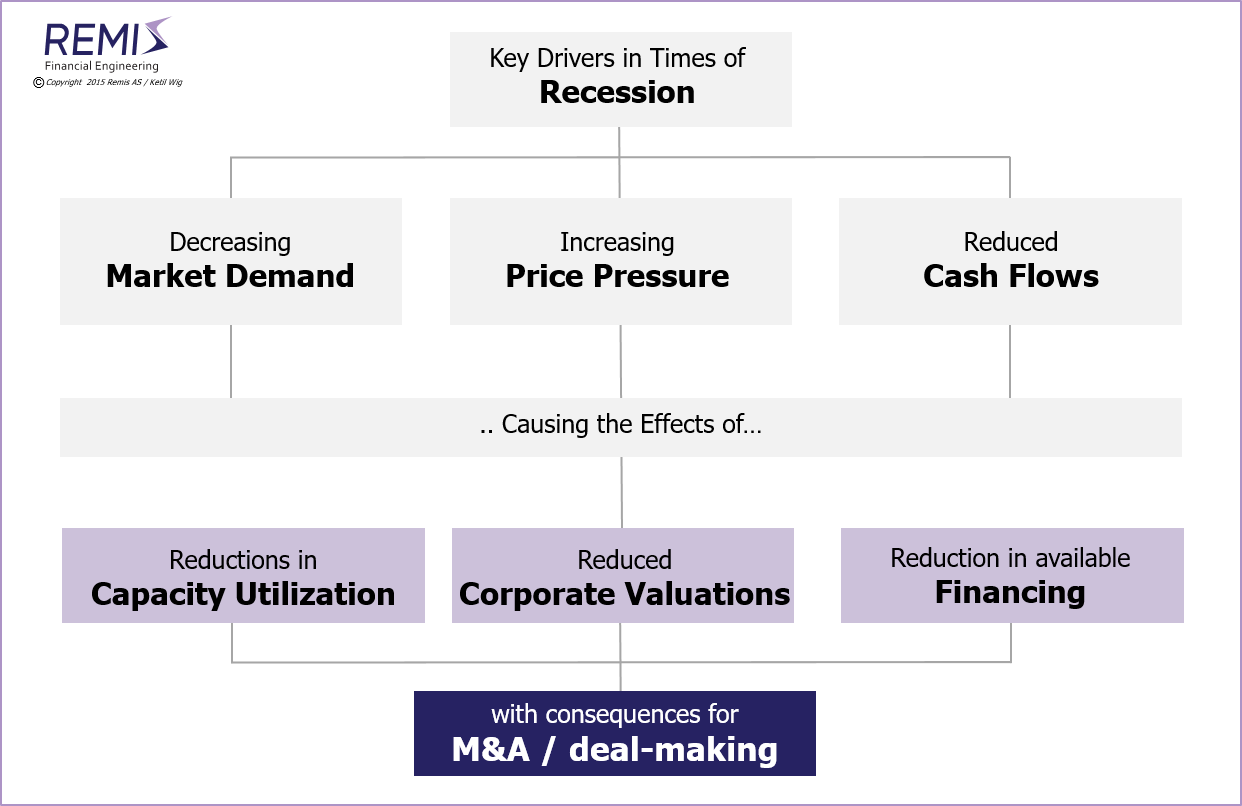 Illustration: The Drivers of Restructuring and M&A during Recessions
Project management of restructurings typically requires the balancing of interests between various stakeholder groups such as owners, creditors and banks/corporate lenders.
Other Relevant Articles
Facts
Remis AS and Ketil Wig offers advisory and consulting services to foreign owners, handling key priorities related to investments and operational assets in Norway. Typically restructuring assignments are either related to distressed balance sheets, or they are part of a corporate redesign preceding a de-merger/spin-off or a divestiture/trade sale.


15+ complex negotiations/restructurings – both crisis and strategy oriented. Focus on redesign and implementation of radical changes in balance sheets, corporate business portfolios, company structures and capital structure/financing.


Balance sheet size of US$30-400M.