Corporate Finance and Ownership Strategies
Corporate Finance includes a set of project types related to ownership strategy development, valuations/bid scenarios, equity splits/de-mergers, negotiations between shareholder groups, and capital optimization projects.
Valuations, Bid Situations, Equity Splits and De-Mergers
Valuations are rarely executed on a stand-alone basis, but rather as a necessary and important part of bid evaluations for
acquisitions
or
divestitures/trade sales
of non-core assets, or as a basis for negotiating de-mergers. Several equity split projects/de-mergers have also typically been characterized by successfully managing complex negotiations and building dialogue/creative win-win solutions in situations characterized by owner conflict and distrust between shareholder groups or board members.
Advanced Ownership Strategies
A separate corporate finance specialty has been to work directly for corporate boards in evaluating and implementing advanced ownership strategies, characterized by combining various measures such as protecting against external takeovers, locating alternative buyers, tightening up internal agreements and shareholder protection schemes, refinancing, building a more robust equity structure, etc. Usually, all of these actions are combined into an "integrated package."
The below illustration shows a model for building maximum shareholder value: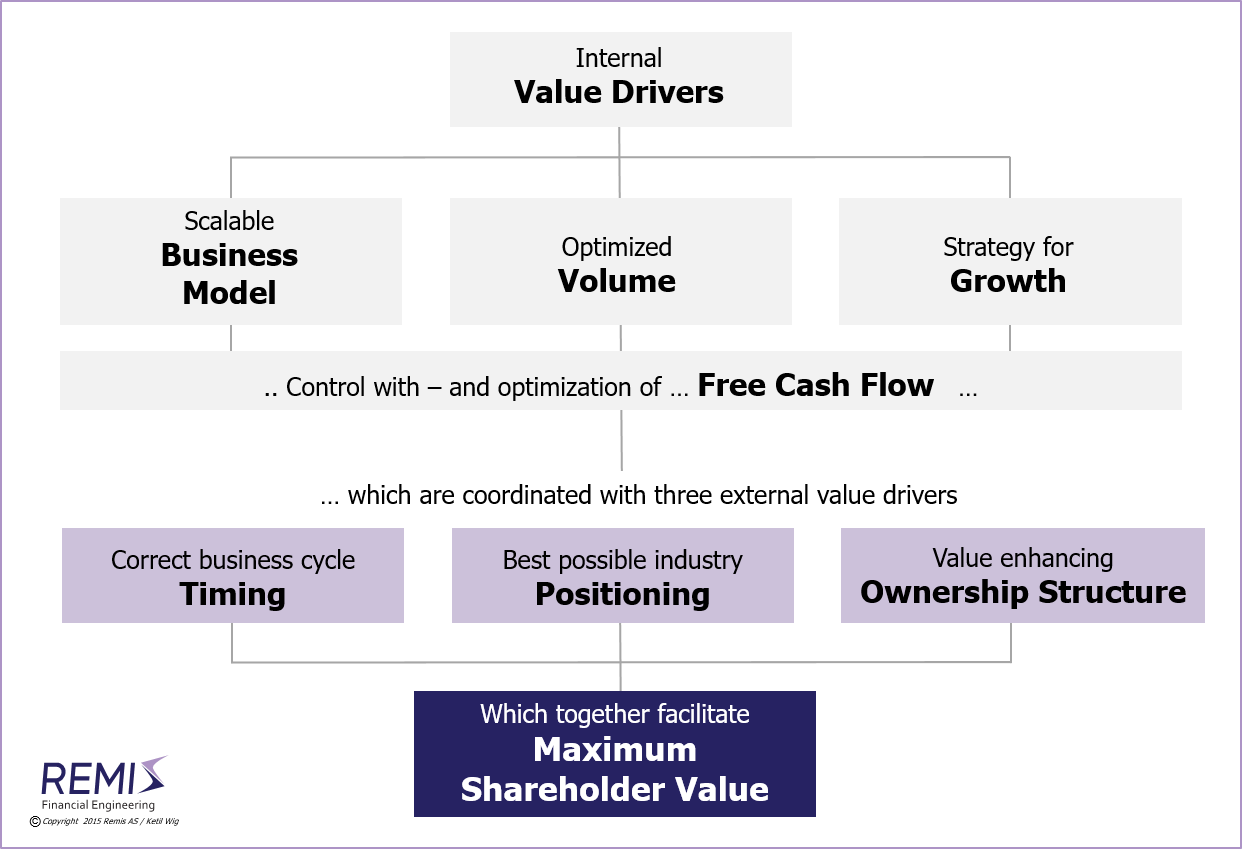 Illustration: Ownership Strategies - A Model for Building Maximum Shareholder Value
Other Relevant Articles
Facts
Remis AS and Ketil Wig offers financial advisory and consulting services to foreign owners, handling key priorities related to investments and operational assets in Norway. Typical corporate finance assignments are related to ownership strategies, business partner searches (e.g. for strategic alliances or joint venture solutions), valuation projects, or de-mergers/spin-offs.


20+ corporate finance projects in various industries. Focus on ownership strategies, equity splits/de-mergers, equity and debt financing, valuations, bid management, takeover protection, capital structure optimization and handling IPOs.


Business unit size of UD$50-800M.