Post-Merger Integrations (PMI): Synergy Capture and Cultural Integration
PMI (Post-Merger Integrations) represent a project domain characterized by non-obvious priorities and high-impact pitfalls. Consequently, PMI is more experience-correlated than other types of
M&A projects
– and quite different from the "financial analysis" parts of a
regular M&A process
.
The Need for a Balanced Approach to Post-Merger Integrations
In order to be successful, post-merger integrations need to focus on a balanced set of priorities – from hard-core synergies to the practical combining of two different corporate cultures. This "hard-soft" approach is critical in order to reduce acquisition risk. Failed
acquisitions or mergers
are typically explained by a lack of integration focus – with weak attention to organization and cultural issues as the most fundamental causes of failure. Why?
Synergy Capture vs. Cultural Integration
Synergy capture is an obvious focus area (but not a very challenging one to solve), requiring mostly an analytical skill-set. It is more difficult to handle the increased intricate issues related to organizational resistance and "us vs. them" attitudes. Consequently, the usual tendency is to under-prioritize these areas when compared to synergy projects. But a balancing act is critical.
The following illistration is taken from
White Paper #1
which introduces 10 steps to a succesful post-merger integration project.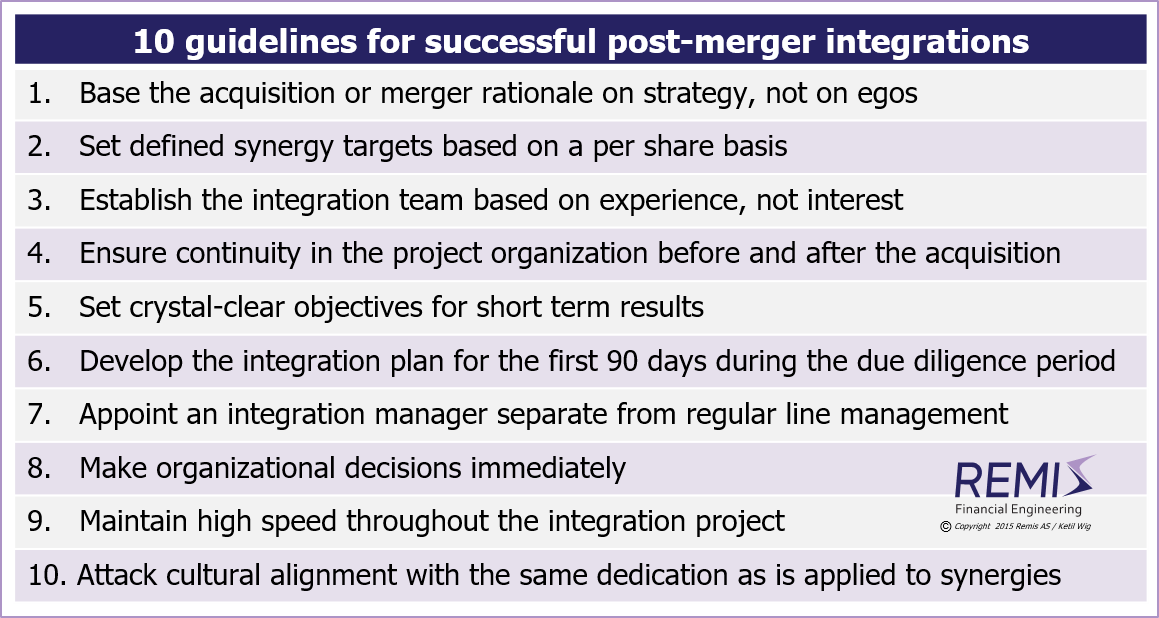 Illustration: Ten Guidelines for Successful Post-Merger Integrations
For a full web version of this white paper, see the article:
On Synergies and Poor Judgement
. A shorter web version is provided in this
LinkedIn article
.
Special Requirements in Scandinavia
In Scandinavia, a balanced approach to integrations is of particular importance, since organizations are characterized by large degrees of autonomy and delegated decision making – and because employees require and demand attention to a broader set of issues than those typically found when executing mergers in other cultures.
Other Relevant Articles
Facts
Remis AS and Ketil Wig offers advisory and consulting services to foreign owners, handling key priorities related to investments and operational assets in Norway. Typically post-merger integration assignments are related to handling a bolt-on acquisition in Norway or Scandinavia; or the merger of two Norwegian entities as the consequence of an international acquisition or merger.


10+ post-merger integrations (PMI) projects across Europe. Focus on merger situations requiring speed and precision balanced with synergy capture, profit improvement, strategy alignment and attention to cultural sensitivity.


Business unit core size of US$100-1,000M.